The Vineyards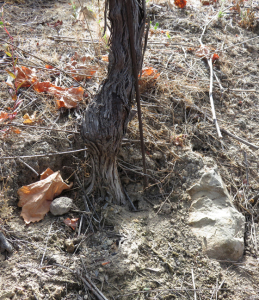 Extraordinary wine begins in the vineyard. Our syrah was planted in 2002. With a backdrop of views reaching to the Golden Gate, our vines provide a stunning mountainside vista. But this vineyard is not just another pretty face. All of the elements needed for outstanding grapes have come together on our Sonoma hillside. The high (1,100 ft.) elevation keeps the frost at bay in the spring as the cold air moves down the mountain and settles on the valley floor. Cooling coastal fog comes in at night allowing the vines to recharge after hot summer days.
The vines grow in earth that is made up of sandy silt with clay and gravel. The soil is well draining, but light in nutrients causing stress on the vines and providing a naturally low yield of around three tons per acre.
Our Alban clone is the icing on the cake. This French Syrah clone includes a unique field blend of Roussanne and regularly produces some of the top Syrah on the market. At harvest we allow the grapes extended time hanging on the vine to ensure a rich and mature flavor profile. All of our fruit is hand harvested.